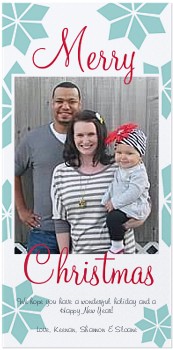 Snowflake Stars Christmas

One thing off the to-do list. Order 25 cards from Shutterfly (using my free points from buying 9 gazillion Pampers diapers). Now I just need to do the other thousand things on the list. Including ordering 25 cards from Tiny Prints using a coupon. I did two separate cards only because of price, but I think it will be kind of fun. Of course my mom gets one of each.
Sloane's big birthday party is this weekend. Thank God my bestie Breann (craft vixen and party planning extraordinaire) is coming on Friday to help me prepare. Last night I attached (via Modg Podg) a bunch of characters that I cut out of a vintage Sesame book (thrift store) to card board and cut them out again and then attached them on the pack with packing tape to some cake dowels that I painted white. They are going to stick out of the food and peek out of some of the games I have planned. Only 5 kids will be there and they are all different ages so hopefully I can keep everybody entertained for at least a little while.
title via our wish for you..."Have yourself a Merry Little Christmas"