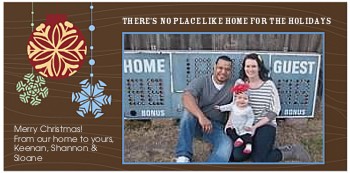 Pretty Patterned Ornaments Holiday
To view our most popular holiday card designs, click
here
.


Sloane's first Thanksgiving

She heard you don't like Tebow.

Lot's to do before this weekend! The big party! My mom is starting the cake today. It is from a 1984 Wilton Yearbook--it's a Sesame Street treehouse cake, the treehouse stands up and has a little tire swing.
Mom and I had fun at the candy shoppe picking out eyes for the character cupcakes (black sixlets), chocolate-sprinkled "shingles" for the roof, and sour watermelon oh's for the tire swing. The treat buckets are almost assembled for the kiddos. I am going to count out the M&M's for a guessing game tonight (which I am banning my math teacher brother Chance from playing) and work on some more little goodies for the kids.
I have to paint a sleepy owl (yellow and lavender) on the doll cradle I scored for 2.99 at a thrift store (it is now sanded, primed and painted a beautiful white). I got two black paint markers so that Keenan and I can write her a message on the bottom of the cradle. Then I will unwrap the baby I got for her and place her inside inside of the huge bag. I can't wait for her to see her very own doll and bed. She loves playing with the dolls at Grammy's house.
Photos of everything-- including the smash cake, to follow!
title courtesy of Home for the Holidays (Perry Como's version is my fave)